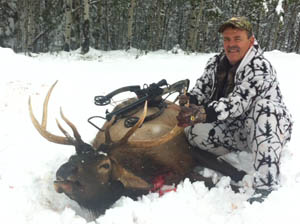 Rick, just now settling in after returning to Charlotte and wanted to take a moment to thank you and your staff on an incredible hunt and experience that surpassed all my expectations. As you know this was my 8th Elk hunt the previous 7 being south of the border with no success, Due to a 5 year battle with Bone Cancer I had pretty much wrote of my lifelong dream of harvesting an Archery Bull Elk and Mule deer Buck. Thanks to my Brother Doug's determination and the assistance of Mark Bueher from Bow Hunting consultants we were able to line up the hunt with you on your Ranch in Alberta.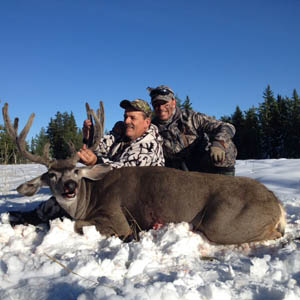 In most cases your dreams and expectations of a hunt are usually a bit diminished upon arrival not in this case, I was truly amazed time after time of not only the numbers and quality of the animals we encountered but the incredible beauty and diversity of the land found on the ranch.
Rick and his staff including Jay and Vern the guides and Bonnie the cook and camp maintainer were awesome folks and I think it took all of one day for us all to go from clients to friends. One of the real advantages of hunting with Rick and his guides was that they could tailor the hunt to whatever your physical condition dictated with a equally high probability of success, as was the case with my brother Doug being in very good shape was able to do a lot of moving around on the Elk which gave him several great opportunity's at large Bulls while I was put into Stand setups and shorter stalks which proved to be very successful.
In closing I want to thank all involved in truly making a dream come true for someone that had pretty much gave up on it ever coming to fruition, I would be happy to be used as a reference to anybody inquiring into a hunt with Rick in the future and look forward to seeing you all in 2016 the good Lord willing.
Jack VanTassell, jvantassell@curtisswright.com, 1-704-756-4884